Description
Ultra Portability
The world's slimmest, ultra-portable, 3LCD projector is engineered with convenience in mind. Weighing at most 1.83kg and 44mm thick (excluding the feet), the EB-1780W make mobile presentations easy and hassle free, With up to 3,000 lumens colour and white light output, you can enjoy bright and vibrant images indoors and outdoors.
The Epson EB-1780W is designed with three grip lines at the edges, making them easier and safer to transport. With the projector small footprint, you can carry the projector in a laptop bag to deliver impactful presentations on the move.
Seamless Connectivity and Usability
iProjection* App for Mobile Devices
The iProjection app enables both iOS and Android devices to easily connect to the projector. You can use iProjection to wirelessly project various documents, photos and web pages, and draw on the device screen and share on projection. To connect, search for the projector in your local network or simply scan a QR code displayed on the projector screen. Remote control function is also built into iProjection so you can use the app to control projector functions. In addition, iProjection now supports screen mirroring (without audio) from devices running on Android 5.0 and above.
In iProjection, projector profile search, multi-screen display, distribution function, audio transfer, movie file transfer, interrupt connection disabling and encryption data transfer capabilities are not supported.
Flexibility Set-up
The EB-1780W provide more advanced, real-time auto vertical and horizontal keystone correction. You can conveniently position the projector anywhere in the room. Simply turn on the power and direct the projector towards the screen or wall, and the image will be corrected automatically in no time.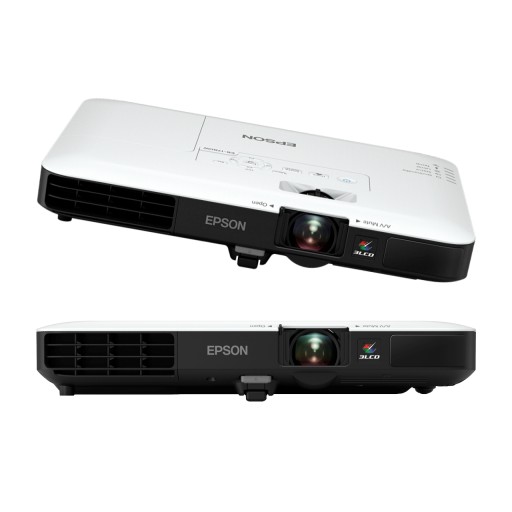 Real-time keystone adjustment* allows the projector to display the corrected image less than a second after the projector is moved. This adjustment speed lets you display a rectangular screen even while you are moving the projector.
* EB-1780W only support for auto vertical keystone.
Quick Corner
With the quick corner feature, you can use the keystone correction and lens shift function simultaneously for maximum projection without have to worry about unintentionally changing the aspect ratio.
Split Screen
Split screen allows inputs from two separate sources to be displayed side by side on the same screen. In a video conference, for example, images of presentation materials and remote participants can be shown simultaneously.
Auto Power On
With the auto power on function, projection starts automatically once a projection signal is detected via VGA cable, providing you with an easy and hassle-free presentation.
Auto Source Search
With automatic detection of input source, projection automatically begins without you having to manually switch the input.
Wireless Transmission
Enjoy enhanced connectivity and flexibility with in-built Wi-Fi connectivity. Easily share and transmit images, texts and files from your smart devices using the "Epson iProjection" application for smooth and smart projections.
Home Screen
View and access your most frequently used functions immediately on the home screen. See all source information at a glance, no matter what the source input. With all the information you need right there on the home screen, wireless connections have never been easier.
What's In The Box:
Power Cable: 3m
Computer Cable (VGA Cable): 1.8m
USB Cable (Type A/B): 3m
Remote Control: Yes, with Alkaline AA Battery
Soft Carrying Case
Bundled Software: CDROM
Projection Software
Password Protect Sticker
Warranty Sheet